The PLANET RIVER Logo
Original concept by Rob.
The circle represents the eternal capacity of our planet earth to naturally sustain free flowing & pure lotic environments. The multi-directional river sustains the planet in returning turns and bends.
Ine expressed the concept with rough drawings and illustrations.
The final image and font illustrations were fine tuned by Lillian Korstad Design in Oslo, Norway.
PLANET RIVER ®, the name and PLANET RIVER ® logo is an approved and registered trademark of PLANET RIVER DA.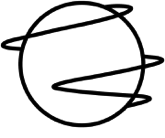 The Confluence
A pure water dream, of two perennial streams at altitude amongst snow and glaciers and endless vistas. The 2 streams confluenced and flowed amongst eddies of ideas, pools of thought, bubbles of plans & waves of means. Within a few hundred metres, a liquid line of a concept weaved through the rapids of obstacles and guided the vision on the line of least resistance.
1000´s of kilometres of river current, individually travelled and experienced in the river travel industry by Rob & Ine led to this confluence of combined interest.
A boat was designed and built to run this flow. She was named Planet River. A small crew is currently on board and it is paddled by Rob Wilson & steered by Ine Skjørten Wilson.
and they continue to contribute and LIVE the river travellers lifestyle, together.
Their passion is to explore and document rivers of our planet from source to mouth. Promoting river travel on clean free flowing rivers - involving safety, white water instruction and documentation. Future plans will include educational publishing and possibly developing a river lifestyle center.
Ine Skjørten Wilson
Experienced knowledge of the Norwegian & international river and competitive rafting scene via 30 years of being in the flow as a kayak instructor, photo boater, raft guide, expedition paddler & national raft team captain.
Ine holds the line relating to business goals, budgets, sponsorship and Robs´ class 5 ideas. Contributing with published articles, hand-drawn illustrations, commercial photography, raft racing for Norway and expedition experience.
Balanced by yoga, practicing as a psychologist specialist, photography, art and a lovingly attended organic summer vegetable garden.
Rob Wilson
River skills nurtured as a seasoned river-ops manager, raft guide, kayak instructor and photo-boater on the Apurimac, Futaleufu, Ottawa, White Nile, Sjoa & Orange Rivers´ lined up the skills for a solo 2000+ km expedition.
Rob seeks un-run lines. Expedition strategy, studying maps, writing, creating photo collages, photography, racing white-water kayaks & detailed planning of expedition routes are his choices.
Solo paddling, whether it be expedition or getting dropped off upriver and finding a safe line home, maintains lifes perspectives.