The Driva River, Norway
The source is fed by the glaciers of the Dovrefjell (gorge/mountain), under the 7500ft peak, Mt. Snøhetta. Home to some of the richest plant life in Northern Europe along with true wild Reindeer, Polar Fox, Golden Eagle and Musk Ox.
A decent of 1630 metres in approximately 140 kilometres makes for a rapid and interesting descent. North flowing from the marshy heights of the Dovre massif it then follows the E6 highway for a while alongside the middle-ages pilgrimsleden (pilgrims road between Oslo and Trondheim) past Kongsvoll, an inn still operating since the 1100´s.
Near the town of Oppdal, the river starts heading west where commercial rafting enthralls visitors and tourists through some impressive drops and technical rapids, with an option for the experienced rafter and kayaker to tackle the Gråura canyon at lower water levels. The Driva is joined by its largest tributary, the Grøvu soon after.
The ever widening Sunndalen valley comes next with long continuous sections of white water for the last 35 kilometres ( including a mini-canyon at Romfo ). This section is known for it´s Sea Trout fishing, ranked in the top 2 (volume) in Norway. The river finally ends its journey at the town of Sunndalsøra, at the head of the 60km long Sunndalfjorden.
The Driva River Expedition Journal
@ Home, Packing and socializing. 17 July 2010
There are no resting days. There is always a lot to do. We are at home today, doing laundry and packing for the DRIVA Expedition. Packing food takes a lot of time. Fortunately Scott had packed all the dry food into 3 person meal bags earlier. In between packing, friends came through and we had some breaks on the couch drinking coffee, talking nonsense and laughing lots. In the evening was the Sweet Rumble kayak race and party which was held at Riksanlegget due to still high water levels.
Ine Skjørten
Shaky my limbs 18 July 2010
This is our last day to make final arrangements before we head into the mountains again. I spent some time grinding the last of our incredibly delicious Kinetic coffee and decanting it into zip lock bags. The aromas of the coffee led me to making a big brew for the crew. I received a few emails and phone calls from loved ones back home.
I realised the magnitude of our source to sea journey, my heart started beating and legs got a little shaky. I took a walk down to the river from our base and stared into the clear moving water, took a few deep breaths and relaxed, regaining my bearings again.
" Double check all your camera batteries are charged", I heard Rob call out from his office. I sifted through the numerous cables now plugged into the wall I recheck my batteries to ensure they were charging.
All set, here we go!
Scott Martin
... ding ... ding ..... Round 2 19 July 2010
Packed the night before, so this morning was slow and relaxed. Awesome. We are on our way to The Driva River. We dropped Scott at the Otta train station at about 9:00 am. Ine and i were in the loaded car first to Dømbas to pick up some fresh veggies and then climbing we reached the Døvrefjell to views of the mountains, swamps and lakes. We approached Drivdalen and stopped at Kongsvoll Inn to drop off our resupplies we would pick up en-route. The lady there was great and locked up our goodies with a promise of it being there on arrival. Left there knowing there was nothing further to think about on the subject.
Retraced the road back to Gjherkinn and the train station , did some writing whilst waiting for Scott´s train to arrive.
A 30min. drive from the train station to the parking area at Snøheim and we were unpacking the vehicle and packing bags and boats to hike up to the Source.
4 hours later we were done. First a load of gear and then our boats.
We are camped next to Istjørnn lake with a beautiful evening of semi-clear cool skies. We are all ready and prepared, although also pretty knackered from the last expedition and all the happenings of the last few days of the Sjoa Kajak Festival.
Rob Wilson
Istjønn to Istjønn, a day in the tent. 20 July 2010
We needed a resting day, and the weather gave us a hand. Woke up with snow on the tent and it was freezing for paddlers without gloves. Spent the whole and a lovely day in the tent sleeping in warm dry Devold underwear, drinking Kinetic coffee, dreaming, eating Marie bisquits and regenerating. I am still drinking more coffee than water. Hm... coffee for all terrain! My hair is starting to look really bad. Hoping for some sun one of these days so i can give it a wash. For now it is tucked into the beanie. I have humored myself practising south african slang today: Kiff, jæzzes, shot bru, noit, lækker, hhhhoi and lænk. Awe!
Ine Skjørten
Expeditions are filled with surprises 21 July 2010
"Scott, coffee's ready, bring your mug", Rob called, over the hissing gas stove.
I flung on my rain gear and moved out into the cold, misty rain. Our 36 hours at Snohetta was as much fun as 36 hours can be in a tent. I was happy I packed in Andy de Klerks book, Sharper Edges, which I almost finished reading.
We pushed off from Istjorni lake, the water was so cold it burned my hands, but I tried my best not think about it. We descended through the shallows of the source run off and after a few small lakes arrived at Snoheim, where we were greeted by builders and offered a hut to dry off in. With one window, a wood stove and three beds, we were very happy to be dry inside as the storm built outside.
We portaged our boats 5km down to the Svone confluence. Upon arrival Ine discovered a hole in the bottom of her boat.
We created a game plan. A phone call to Flemming at Opplev Oppdal adventure company and he was on his way up too us with a repalcement boat and news of a low pressure cell arriving. The already bad weather was getting worse.
Scott Martin
SNØHEIM 22 July 2010
Up at 10:00 am, after deciding the night before to let the weather move through. We got some info from the builders that it would be good weather moving in, the following day.
The day was spent with odd excursions out the cabin to get fresh air, take photos, and fetch water for cooking and coffee.
The cabin is awesome with a wood stove, which we have had going, since arriving the afternoon before, firewood is from a building they are renovating. Extensive work is taking place at Snøheim to renovate after a successful and controversial bid to get the area back into National Park control. The area has been used by the military for training since the 50´s.
Scott had a few attempts to fly his kite later in the afternoon, but the wind was too gusty and strong. Bare handed whilst helping the kite to fly, the freezing wind turned my hands into screaming ice-blocks in about 10min. Being outside in this weather, even though is mid-dummer reminds me of how harsh the enviroment is up in the mountains of Norway.
An afternoon nap in the warm cabin was an experience not enjoyed in a while and woke up feeling good. The water level has risen with the last 2 days of rain, snow and sleet . The 3 of us are well rested and the extra water in the river bodes for getting on the water in a section which cannot be run often due to its size of being near to the source. We shall see ...
Rob Wilson
Snøheim to Storbekken, mountain paddling. 23 July 2010
What an amazing day! Clear blue skies, clear sight to far away. Mount Snøhetta proudly reaching for the sky. Rested crew. Happy crew! Started the day carrying the backpacks down to Svone confluence. Enough water to run the river from here. First gorge came soon, absolutely clear green water and steep rock walls riverside, called Storfallet and with cool class 3 drops! Boogie H2O and some class 3 rapids til past Grønbakken except one drop under a bridge that we carried around. One weir surprise. Set up camp between the road and the train tracks. Fortunately the music of the river was louder than the cars and trains.
Ine Skjørten
Cold Nights, clear skies and sunny days 24 July 2010
We woke to a very cold morning, frost covered everything and I put on my boating thermals on top of my camp thermals. We warmed up in the morning sun with a hot coffee.
We paddled a great section of rapids through a narrow little gorge, the morning light was a treat to capture photos. We arrived at Kongsvoll -an old Inn, which has been running since the 1100's- for a food collection and recharge of camera batteries. I strolled around the inn's gardens collecting images and wondering what it would have been like to stay at the inn during winter.
Back on the river, the gradient kept it's consistency and we had two rather steep portages. Ran a great section of water by the "Troll and Church" bridge, found a grassy camp soon after to settle in for the night.
Scott Martin
Tandsaetra to Skrea Bru 25 July 2010
Late start waiting for gear to dry, we were camped in the narrow shaded Drivdalen valley. No rain, but heavy cold dew, camping close to cold moving water also ensures moisture is heavy in the air.
Was cruisy and floaty down to the Lapp Camp. Had a quick tour of the tourist shop and purchased a stick of reindeer salami. Soon after we got into some good whitewater read and run all the way down and past the Slate mines to the confluence with Åmot.
Garbage has started to show its face in the river as the population, industry, farms have increased.
Arrived at Magalaupe Camping just before the bridge, looking at the gradient we have to travel tomorrow and the afternonn we have, we decide to split up and scout the next couple of kilometers. I go on river right, Scott follows the river low on the left. Ine goes uphill following the road to see if we have access through a farm to get below Magalaupet.
Most of the river disappears under a giant river wide boulder, a narrow deep twisting slot channels boiling water on river right. The scout gave us a line to portage the boulder choke and 2 dangerous rapids and a waterfall for the next day.
A beer and a gameplan in the Gazebo and we decided to go with light loads the next day for the portaging as our destination was Granmo camping. Our vehicle was there, so decided to shuttle our gear after the run.
An evening spent in the Gazebo writing and catching up with trip notes.
Rob Wilson
Magalaupet to Granmo, a brutal portage. 26 July 2010
A big day for sure with a long and tough portage. Good call from Rob to go with empty boats but lunch and pick up the rest of the gear when getting to Granmo camping where our car was waiting. This section has several must portages. In between are the most beautiful green pools. We walked river right first. Then a 200 meter paddle before another must portage, this time river left. We walked through flowering meadows, on cow tracks and over rocks all the way down to Gottem bridge. Then was another drop to carry around. Boated the Skorem Bridge rapid with a crowd cheering before boogie boogie to Granmo Camping and Opplev Oppdal base. Gerd Mette and Flemming came with strawberries and ice cream. The berries have never tasted sweeter and as intense! Spent the rest of the day repacking. First pine tress showed up today. We are no longer in the high mountains area.
Ine Skjørten
The Commercial Section 27 July 2010
We rigged the raft and reshuffled gear. Ine was in the raft and myself and Rob in kayaks. We descended down the commercial section of the river, Opplev Oppdal, use for their trips.
After lunch we walked to a wilderness camp, captured images and met up with a reporter from Opdalingen ( A local Oppdal newspaper ) We found camp, a beautiful sandy beach with low hanging trees. I felt dehydrated when we arrived, drank some water but ended up retching into the bushes. I found my therm-a-rest and lay down. It wasn't long before I visited the bushes again. Ate Marrie Biscuits for dinner and retired to my tent at 7pm with a temperature. By 9pm I had emptied whatever bug was in my stomach and felt much better immediately.
Scott Martin
Tough day at the office 28 July 2010
Scott was brave getting up this morning, he had a tough night last night. Must have been something he ate that we did not, or picked up a 24hr bug. Poor guy was bent over a few times, his guts were screaming to get it out.
Through a few rapids on the commercial run to start up with and then mellow and floaty for a few hours, Scott taking a ride on the raft shooting photos and video to conserve energy.
In the early afternoon we came upon a rapid, which involved a scout. Steep walls, a drop with hole at the top requiring a boof and then a wide hole in the middle of the river. Ine got slowed down through the top drop and had a long surf in the second hole before being roped out by Scott, who got it all on film. Scott was up next and mistimed the boof and got a good 30sec working in the hole which was not letting him go. A short swim and easy retrieval of camera gear. The 3 of us were beat from the last 24 hours and decided to camp. Did not go far to find one.
After setting up camp we went on a fishing safari in the big pool in front of us. A good laugh and chilling was just what we all needed, not much luck catching anything.
Later, 2 teens came down to the river to fish. 1 of them fishing with a ragged whipping style to his cast and dressed up in what looked like his dads handed down waders/fishing jacket managed to haul in four fish in a short space of time . His buddy was casting and reeling his spinner all over the eddy with the result of catching one rock. His fishing buddy had to come and coax the hook expertly from the depths.
We all have our eyes on the water level and the weather with the approach of Graura canyon, coming up soon.
Rob Wilson
Ishol to Liahjel, non stop rapids in the gorge. 29 July 2010
This is the best! I really enjoy this section of river. Fortunately i was done "popping the oars" the day before. With a solid rock the oarlocks were tightened and the oars stayed in place through drops and hydraulics. We were so lucky, the level was perfect with 2.33 on the Liahjel bridge. Gråura is a 13 km non stop section in a gorge, you actually can't remember all the rapids! Rob and Scott had sweet lines through all the rapids, really good to be here with them. "I see the bottom!" and so we paddled, shot film, took photos, stretched the necks to see the next rapid, paddle... film... photo...and so the day went by. In the raft i was happy to have some weight in the front of the boat, because several passages are quiet narrow and don't allow room to row. We camped on a beach just before exiting the gorge and watched the footprints in the sand change color as the sun went down towards midnight.
Ine Skjørten
a slow day filled with smiles 30 July 2010
We all woke with big smiles after a restful sleep, morning coffee was spent discussing movies and filled with laughter and sunlight. I trolled upstream to shoot ( Bjornaa –Lianhjell- ) a waterfall tributary. Using our soap made from animal fat I washed in the river and felt refreshed.
We headed down river past a river gauge and found a fun play wave. Rob and I enjoyed trying to hold our loaded creek boats on the wave while Ine enjoyed the entertainment. We covered a total of 2km on water and arrived at Vollen campsite. We enjoyed a walk up Erga creek and found beautiful flowers and bugs enjoying the sunlight.
Scott Martin
Fishing Path 31 July 2010
Avocado, Blue Cheese, Pasta, Fried Veggies, Coffee, Chocolate, Cookies and Fresh Bread .... was a styling dinner on a saturday night whipped up by Scott after stopping at the supermarket in Gjøra.
We have found a cleared section of vegetation on a trail that leads you through riverine forest that is a world of green and wet and ferns, mosses, creepers and dewdrops.
Several fisherman have hiked passed us this afternoon and evening in the search for the big 1. There are big fish in this river with 7/8 kgs being big, records are double the size. Have chatted with a few here today. `Not many fish caught in this area recently´ a young Norwegian and American mention, although they did kinda like the idea of what we were up to. We have also been asked by a local fisherman for our paperwork to show that our gear and equipment has been disinfected for the parasite - Gyrodactilus - found on several Norwegian rivers that harms the fish.
Fishermen are peaceful and ever patient for a take. Attracting with spinning lures and floating flies, they slowly wade knee/thigh deep up and down the eddy-lines to give their line optimum reach. Slowly moving downriver, a step or 2 after each cast they ensure the whole river is fished. Often alone or an occasional pair will stalk a section for a while, sip on the coffee back at their huts on comfy seats and then wade back in after a chat for some more casts and hope for the big 1.
Rob Wilson
Romfo. 1 August 2010
The river has more volume now after the confluence with Grøvu. We are traveling through farmed areas, and more waterfalls than i can count. The clouds are low, and mist is moving fast along the mountainsides. The main rapid of the day is at Romfo. It is a 1 km long / short section, and demands a scout. The main character of the section is boulders and bends. The second rapid has an undercut the main current flows into. After Scott and i portaged Rob ran a good solid line past the undercut. I was happy to line the raft on this level. The rest of the section was a continuous zig zag move between boulders, pour overs, ledges, stoppers and funky water. I could really feel how the raft was sucked down and in unplanned directions several times. In the evening we booked a hut at Myren camping. We are in the area of fenced land and we decide we are better off staying at campsites.
Ine Skjørten
The lower valleys 2 August 2010
Slow to wake up and get moving, my body felt tired. We arrived at a steep rapid, the volume of the river had increased. Mostly read and run rapids with waterfall after waterfall on either side of us. The flow of the river kept us moving steadily and faster than we expected. We passed more fishermen and some well kept river frontage properties.
We found a great campsite at Furu camping and stayed in a hut. Chatted to an experienced fisherman who was excited to hear about our expedition. He told us he had left his life in Olso and moved to the Driva to fish. The low mist hung around all day making it hard to shoot photos.
We enjoyed a dinner of Penne with canned mackerel, beans and fried onions.
Scott Martin
15 Days on D´ RIVA 3 August 2010
Low, misty clouds, seagulls, an alluminum factory with a mirrored fjørd were our hosts as we floated into our journeys end.
The washroom at last nights camp at Furu Camping had a 3 dimensional, tilted panoramic view from the fjørd looking east and south. The furtherest point shown on the map, a tiny litttle bump sitting at the top of the map was labelled Snøhetta.
The 4 season tundra at source, into the tree zone at approx. 1150 m. Camping, boofing, kiting, waterfalls, fishing cabins, riverine forests, portages, 4+ Graura, rice and fish again, timelapses ...
We started there and then went there and then there and also there as i traced my finger down our river/mountain descent.
Had a little spring in my step back to our cabin, remember clearly putting my gear on and kinda wishing it was not the last time, and then i had a thought, will probably be back on the water on friday or saturday back at work (´it´s not like, it´s the last time`)
Scott, Ine and myself succesfully decended the full length of the Sjoa and Driva rivers, this is our first insight to continue documenting these rivers for published guide books.
Rob Wilson
The Driva River Expedition Summary
18 July - 5 August 2010
Return to the mountains
Scott caught the train. Rob and Ine drove the loaded white van and dropped off food stashes. We regrouped at Hjerkinn train station and Scott was stuffed into the back for the last 15 dirt kilometres to the end of the road near Snøheim.
Snøhetta - Natural monument
A 3 hour hike to the glacier-melt lake with all our gear and boats. Two nights camped at 1630 m below Mt. Snøhetta in a snow and sleet blizzard was welcomed. We needed the rest. On departure very little water forced us to drag and haul our gear the first 5 km down Stridaai creek to Snøheim in near freezing temperatures. Arriving at Snøheim lodge we were invited to stay in a cabin with a wood stove. With the lodge under construction we collected scrap to keep it fuelled and us toasty warm.
The Svone
Flemming came to visit us with a bottle of wine and new kayak, as we had trashed 1 on the portage down to the confluence with the Svone. We spent 2 nights in the cabin waiting for the weather to clear. Four days to travel 10 km. Time to get going. Luck was now on our side as the weather opened up beautifully and the river had filled from the foul weather. Technical and shallow with little drops we bombed down the Svone to the E6 highway under brilliant blue skies and the snow-dusted peaks of Dovrefjell our beautifully painted backdrop.
Drivdalen Valley
The next day we found ourselves at Kongsvoll Inn, collecting a resupply of food and recharging batteries. The valley walls here are steep and shaded. Waterfalls pouring out of the dizzy heights. The gradient was continuous with a couple of portages. A section of river we had anticipated to be difficult turned out to be super fun, we had water. The advantage with the road running right next to the river is you know that help, if needed, is right there. The negative to this, is the extremely sharp rock which devours plastic kayaks, created from road construction, obstructs the shore and riverbed.
Ugly but beautiful
The valley was starting to widen up after a visit to the Lapp camp souvenir store, to stretch the legs and buy reindeer salami. Approaching the scarred mountainside at Eidsvoll skifer mines we ran a set of rapids with amzing rock strata that had been shined smooth by countless molecules of water. Our days in the wild were over. Farms, factories, traffic and pollution was evident. We confluenced with the Åmot River at Engan and made our way to Magalaupet camping site.
Magalaupet
The river dives down and under a river-wide monster rock. We scouted a portage route and soon found that the river downstream was going to be tough going for the next three kilometres. Rob decided to run the rapid under the bridge after being warned not too. A thorough spanking in the hole (luckily not swimming), gave Scott and Ine mild forms of heart failure and a reminder to all that we were here to document the river and not be the first to run potentially cool and dangerous rapids. We spent the next five hours scrambling through the bush, paddling across calm pools, dragging our gear through farmers fields, sweating, cursing and getting munched on by mosquitos. We dodged waterfalls, sieves, syphons and sketchy drops and emerged at Gottem with an altered sense of humour. A late lunch at helicopter eddy followed by cruisy floaty pools to Granmo camping near Oppdal town. Gyda and Flemming had our vehicle waiting for us there with fresh strawberries and ice-cream. Yumm.
Headed West
The Driva River had flowed on a northerly route here to Oppdal and then bouncing off the mountains we were now on a westerly course. The river was big enough to accomodate a raft. Lighten the loads in the 2 remaining kayaks and put Ine in the driving seat. The commercial raft section was next and was good to relax a little in familiar surrounds. Scott had a tough night, turning a purple shade of green and barking to the midnight moon with a 24 hour stomach virus. Fishing was taken up with enthusiasm after hearing stories of Salmon and Trout of epic proportions. Our luck was in another fisher somewhere else.
Gråura Canyon
A short portage at Ishol, followed by gentle pools and class 3 rapids, we approached Graura canyon. An absolute blast of classic class 4 pool and drop rapids for about 13 km. The first rapid, Storfallet is the biggest and puts your mind to where it needs to be. Some of the rapids are unscoutable from shore and require river-reading skills at the least. Steep canyon walls would make an escape out of this canyon an expedition in itself. We had our moments with Scott taking a beating and swim and quickly retrieved gear. The same rapid caused more chaos, a memorable surf by Ine in the raft with Scott performing rope-rescue.
Sunndalen Valley
Fishermans paradise from the town, Gjøra and confluence of Grøvu to the mouth of the Driva. Although getting deeper, the valley had widened. Farms, campsites, highway 70 crisscrossing the river from left to right and back again, and waterfalls hundreds of feet high. Approaching the ocean the humidity increased, vegetation was thick and jungly. Our new obstacle was dodging fishermen. This lower section of the Driva is a hot spot for Salmon and Sea Trout fishing. Land access is strictly controlled and observed. Giving them space put us in the slow backwaters. Frustrating as it was we quickly learnt the technique to keep the peace. The nights were spent at campsites in cabins, a luxury that was enjoyed compared to our last 25 days in tents. It took a bit of fizz out of Friluftsliv (the outdoor life). Musgjerd Rapids were worth a scout, the river constricted here and now with a larger volume, there were a few raft and kayak eating holes. The rapids at Romfo were good and solid with a short portage avoiding an overhanging undercut midstream. The last 10 kilometres of river meander over smooth pebbles and around islands, civilization creeps closer with small villages growing to small towns. The many waterfalls are spectacular, raining down the 500-800 feet cliff walls with the odd glimpses of perennial snow-pack in the peaks valleys.
The Sunndal Fjord
All of a sudden there is a giant alluminum factory with steam and smoke belching out of her on the horizon. Then, the water has stopped moving downhill and we arrive at the calm and clear fjørd. We are there, here, the end. A few cans of beer, a slab of biltong. A loose pack of stinky gear chucked into the van and we were out of there, a lot quicker than it took us to get there. Job Done.
Thank-you
* Kersti Skjørten - Insurance
* Nerviken Eiendom - Maps
* Eilif Skjørten - Trademark
* Torgeir Strander - Accountancy
* Maja Lokken - Biodegradable soap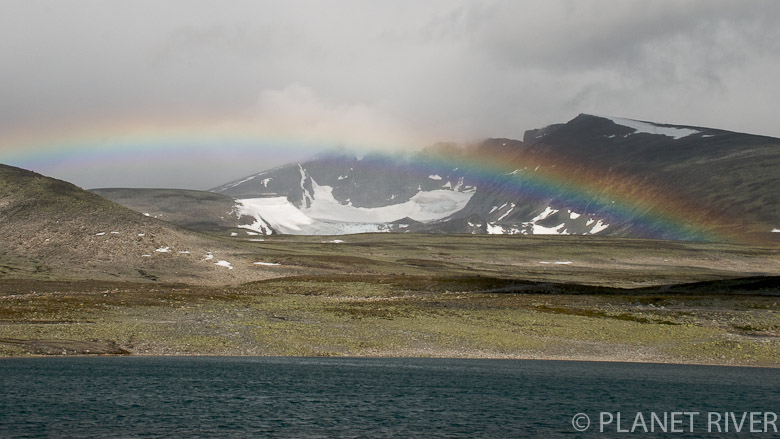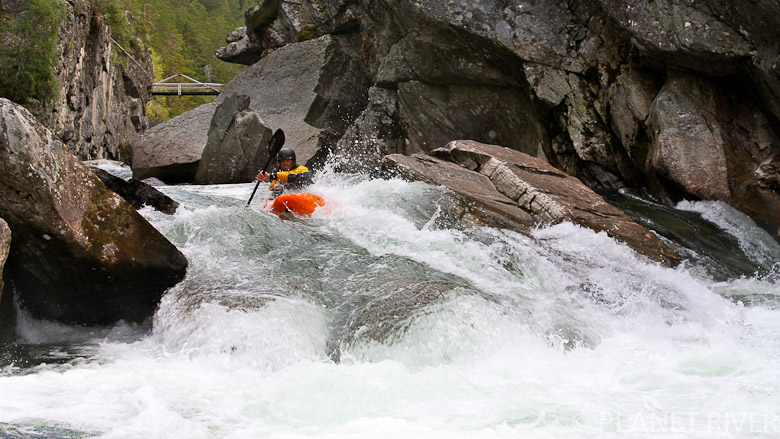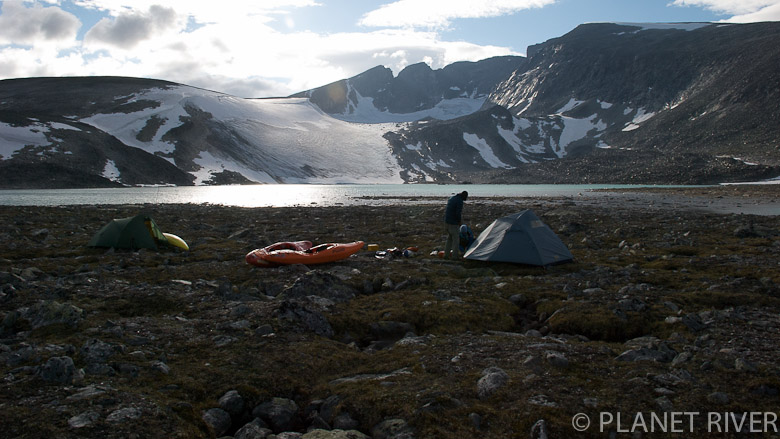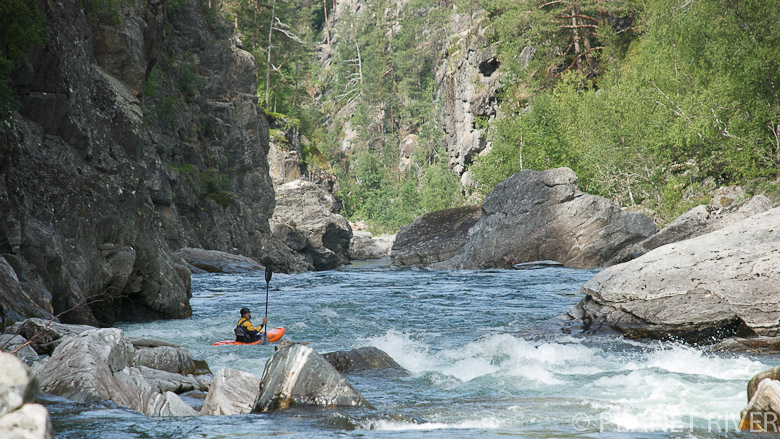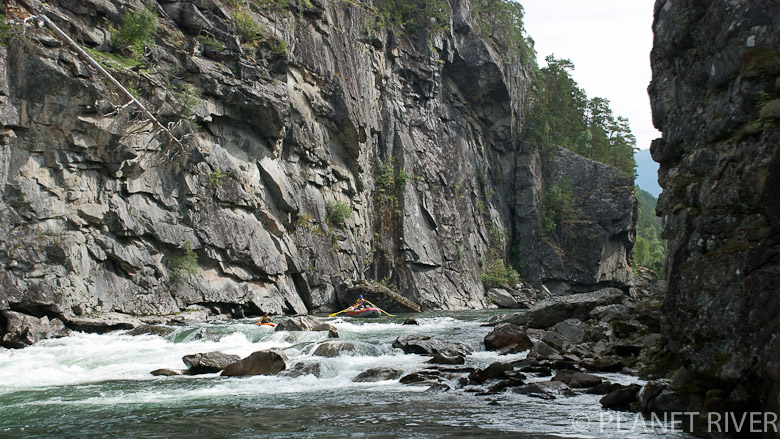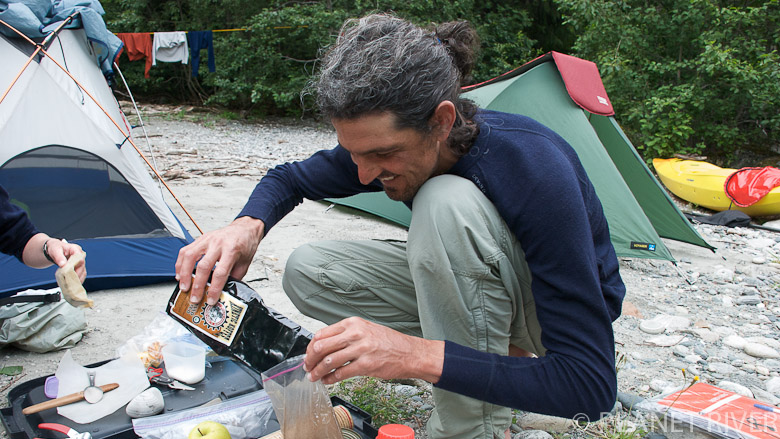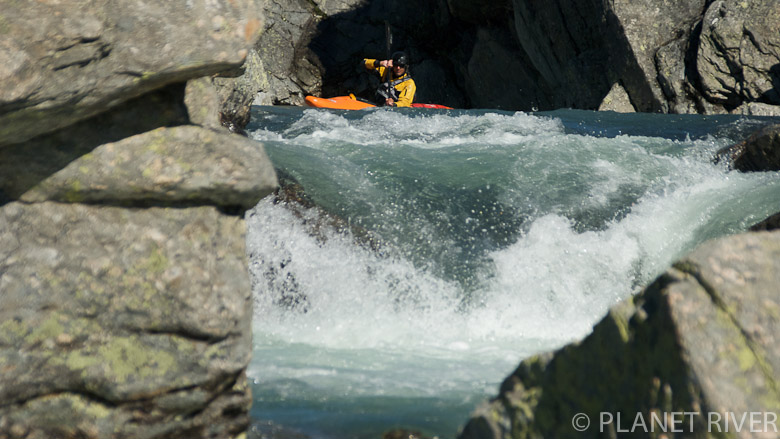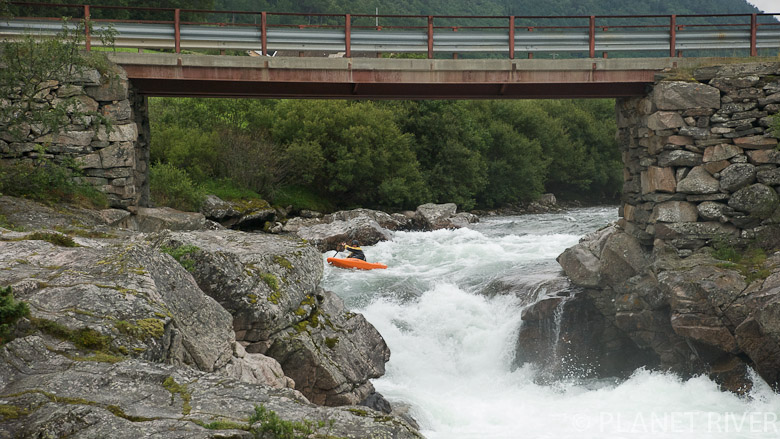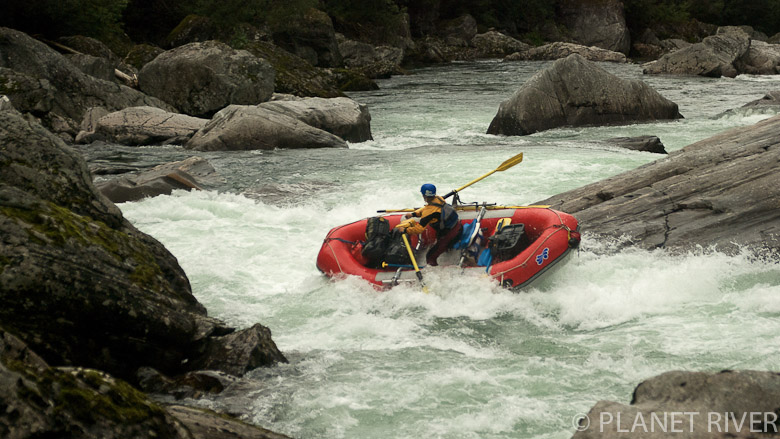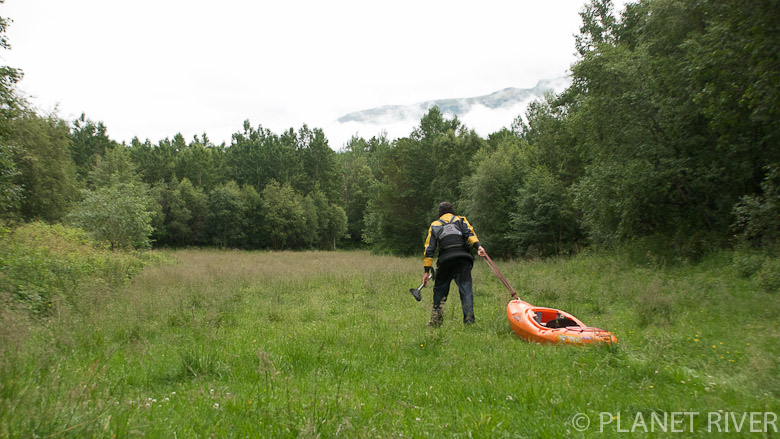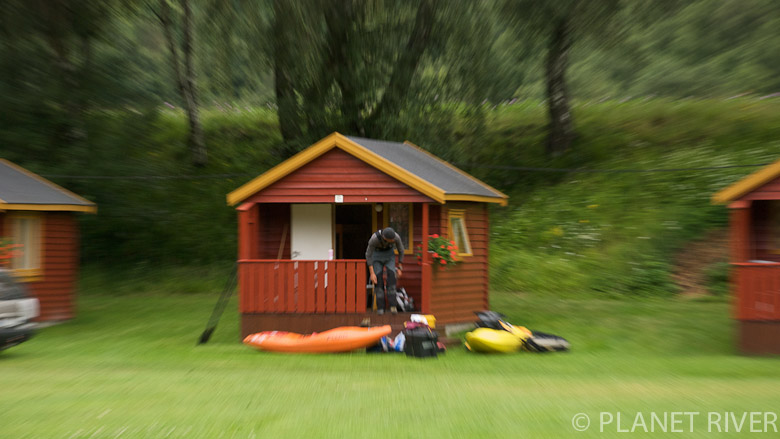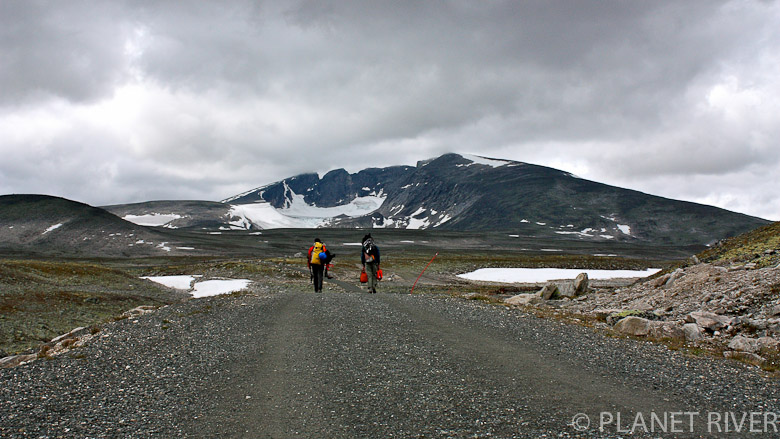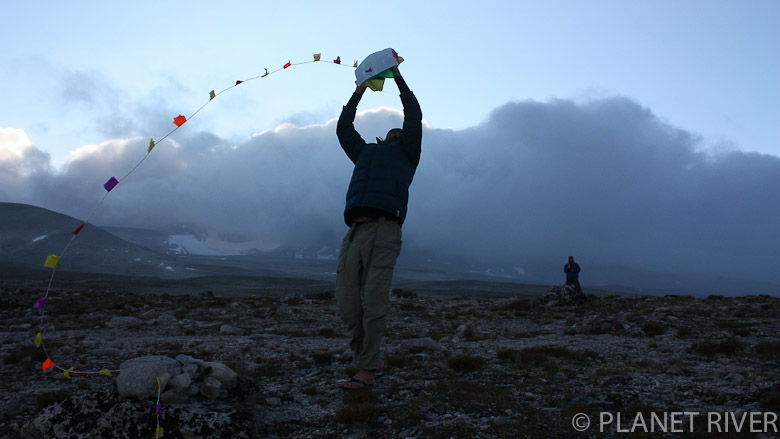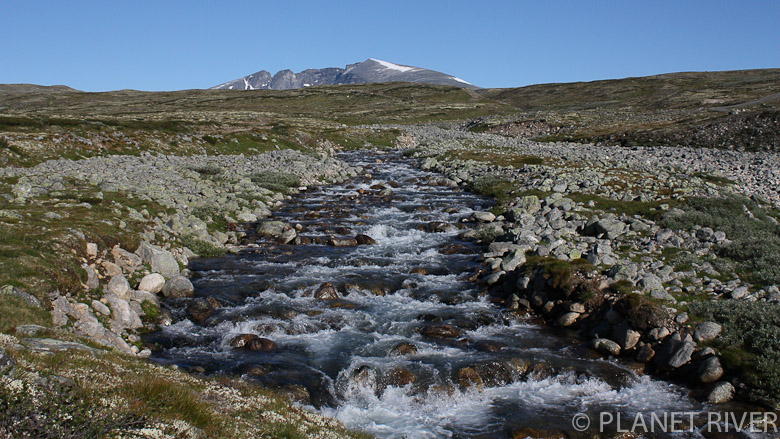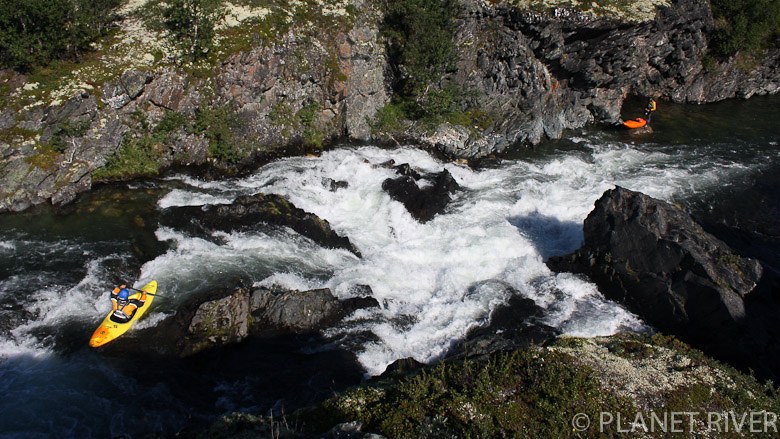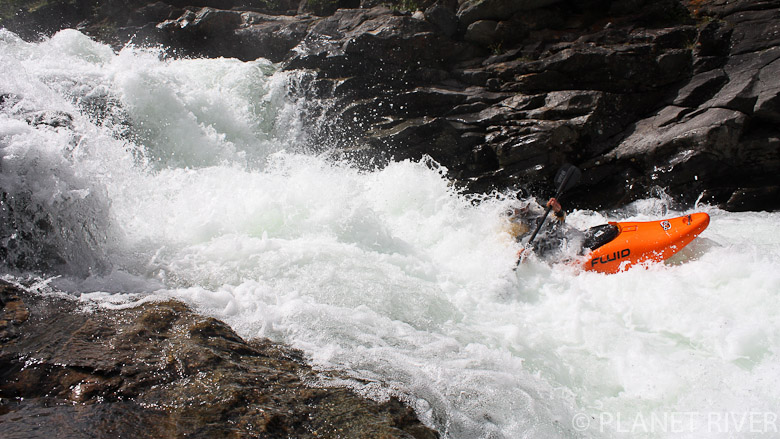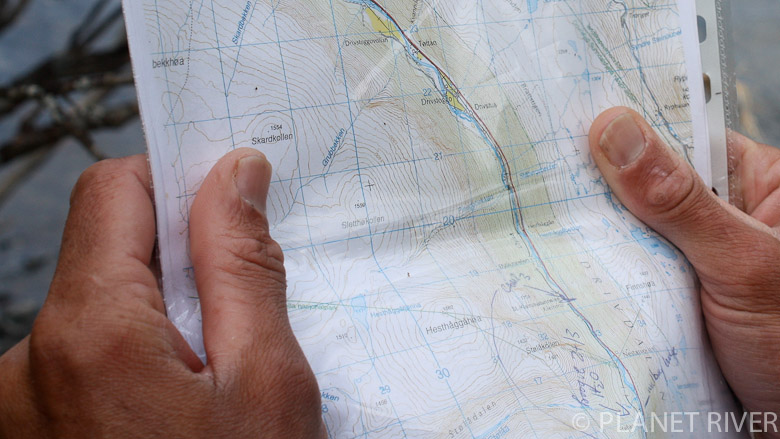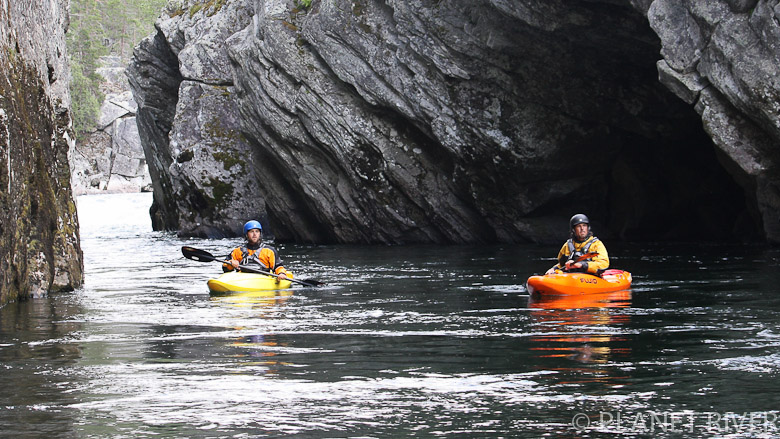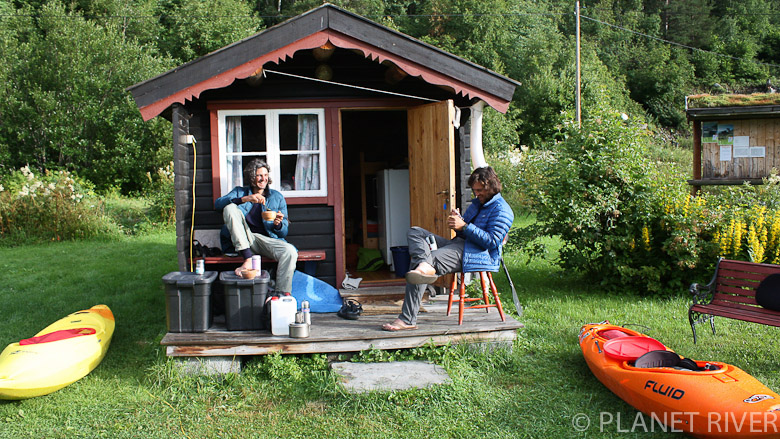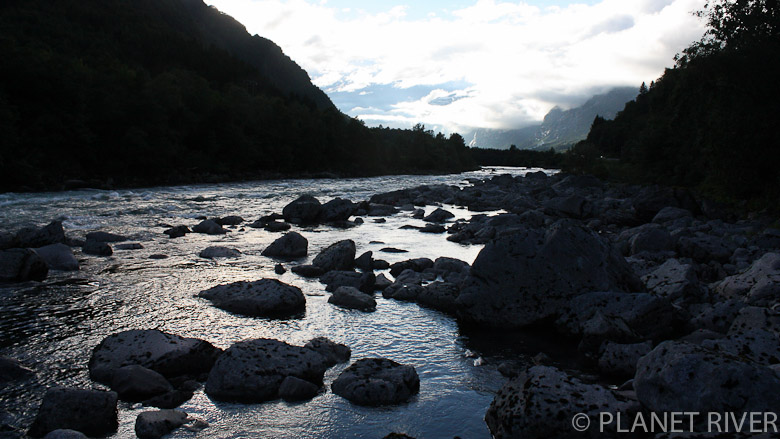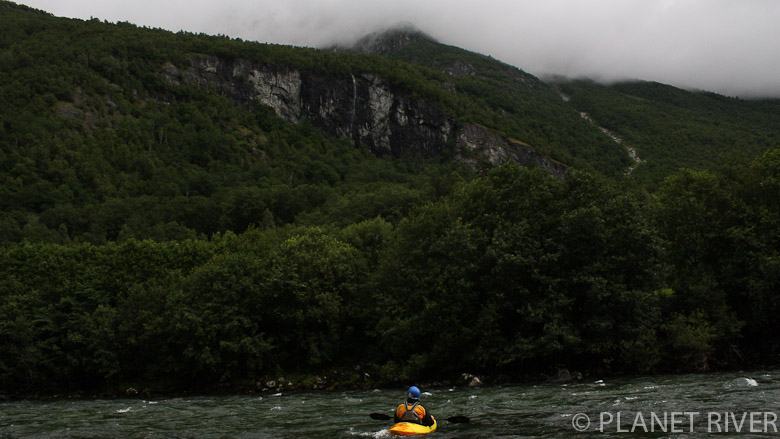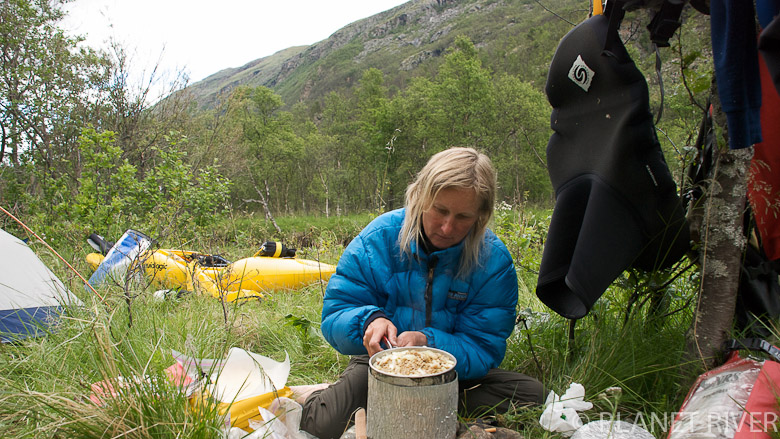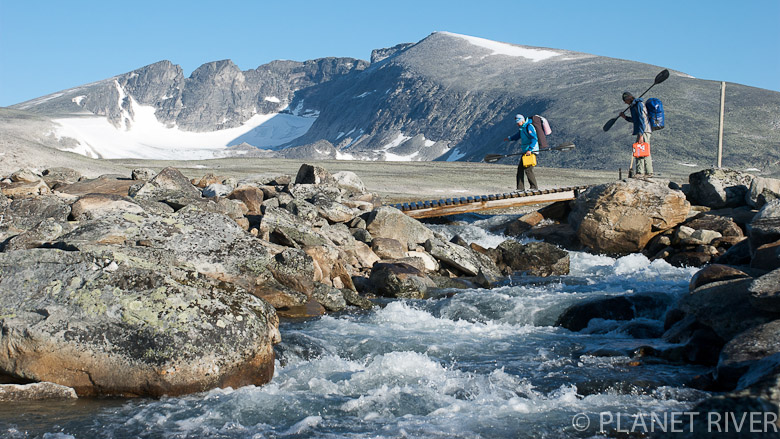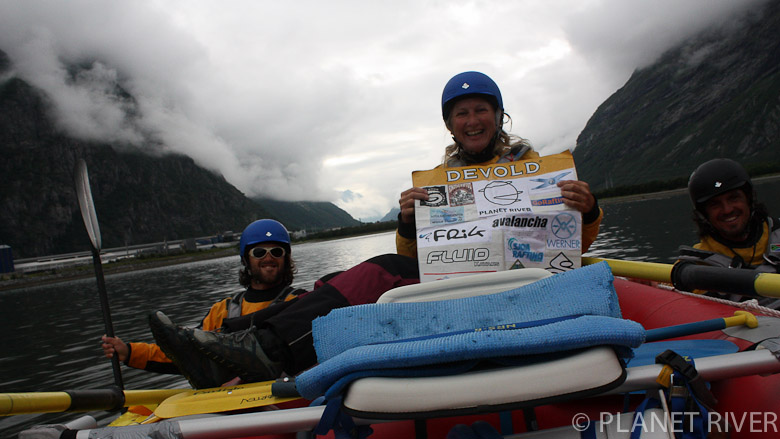 All images, copyright of Rob Wilson, Ine Skjørten Wilson & Scott Martin / PLANET RIVER