The Sjoa River
The glacier fed primary source at 1600m.a.s.l. runs steep and cold for 16km into Lake Gjende (984 m.a.s.l.) in the foothills of Jotunheimen (home of the giants) National Park. 3 lakes including the 18km long Lake Gjende at the headwaters help warm up the water before it tumbles through a range of difficulty with portaging very likely at some of the waterfalls en-route to the Åsengjuvet canyon.
In the 1200´s at Ridderspranget ( The Knights Leap ) a young knight evaded capture by jumping over the Sjoa with his `stolen´ maiden and then pushed his servant into the river to warn his pursuers of the consequences. The home of Heidal Ysteri ( brown cheese manufacturer ) and the highest concentration of protected homesteads in Norway are in the village of Heidal along with Bjølstad farm which has been in the same family since the 13th century !
A well known river in Norway, for its commercial rafting and kayaking options, with four commercial rafting operators, a kayak instruction and rescue centre and the slalom course at Riksanlegget. The last section of the Sjoa before it confluences with the Lågen River is the Class IV Åmodt-Fallene where in mid-summer extreme kayak racing through the falls attracts kayakers from all over Europe.
The Sjoa River Expedition Journal
Faukstad to Øvre Høgvagltjønnen, the source! 5 July 2010
We are at 1600 masl standing next to the glacier river coming out of Høgvagl glacier in Jotunheimen Nationalpark. This is where the furthest away water running into the Sjoa river comes from. The source is surrounded by 2000 meter high peaks and glaciers. The weather is typical Norwegian summer weather; changing rapidly between rain, wind, sun and mist. The temperature sits between 5 and 10 degrees celsius. We are in high mountain terrain with sharp, mossy, loose rocks and running water everywhere. It is beautiful in the colors of blue's, green's and grey's. Now it is us, our boats and what we need to negotiate down the river from here to the confluence with the Lågen river covering 104 km in 12 days., dropping from 1446 to 294 masl. We are stoked to be here to map this river and it's surroundings.
Ine Skjørten
Half baked potatoes with Source 6 July 2010
I woke at 4am, poked my head out my tent to check the light, same as yesterday, grey and gloomy. Tried to fall asleep again but couldn't put my head to rest so decided to go for a walk.
We slid into the icy waters, climbed up to the where the water runs out of the glacier, happy faces. Got back into our boats, our first horizon line already, sweet! Our first portage, we pulled our 50kg boats across the earth, my legs burning. Finally felt the sun at lunch, we crossed three lakes with a few rapids between the 2nd and 3rd lake, amazed at the number of glittering tributaries.
Ran into some stove problems, half baked potatoes for dinner, warm food is great. I now rest in my tent with all my warm Devold merino wool thermals and socks on, happy to be out of the cold wind.
Scott Martin
Hellerkampen to Gjendebu 7 July 2010
the 3 of us pretty quiet packing up.
Day 2 of the expedition and we are feeling our bodies reaction to expedition life. a little stiff in areas and the overdose of fresh air is contagious.
With stove still not working, so cold breakfast after several attempts to clean, replace parts, put back together. Was 1 moment of joy when she fired up for a few seconds, but that was short lived.
Hellerfossen portage coming up and where we are camped above the falls on river right there is no good view of our descent on river left. The paddle across the top of the falls is calm and easy, but not a place to miss the take-out.
After the easy portage, which reminded me that we need to take a step at a time, and not think too much about what could be coming next, rather to concentrate on the now.
Set of rapids just below the falls had enough water for myself and Scott to descend a fast, narrow, ledgy section which is jutted with extremely sharp rock. Next it was time for all of us to portage 2 sections of steep, ugly rapids. A little more water would have encouraged some boating through these drops.
2 long easy boogie water rapids, rotating the filming and photography between the 3 of us we picked our way down Storåadalen valley.
Then BANG, Scott hits a rock in a mellow rapid which punches a hole through his boat. It is fucked. Fixing it with heat is normally an option, but with our stove also having the day off, that option is grimmer because we have only just entered the tree line, so not much fire-wood around either.
O.K - lunch break, lets think this through cos we have options.
First, a portage by all 3 of us .Then the plan involved Scott walking with his gear on trail to Gjendebu, Ine and i stayed on water through a low rock-walled mini-gorge for several rapids. We all met up at Gjendebu.
The day ended with me riding the ferry with all 3 river kayaks to Gjendesheim, Brett picking me up and taking me back to Sjoa valley to go and find another boat and collect our spare stove. Ine and Scott remained at Gjendebu to continue documenting and get our sea-kayaks and canoe loaded for my return.
An expensive day, but the trip continues ...
Rob Wilson
Gjendebu to Memurubu, surfing the lake. 8 July 2010
The Gjende lake is 18 km long. It's color is clear emerald green. During the summer season the Gjende ferry runs back and forth the length of the lake, and takes tourists to DNT huts and to Norway's most famous hike over Besseggen. On the river left side of the lake, the mountainside of Bessegen is a catchment area for the sun, resulting in a vegetation worthy of a much warmer climate.
Our ride from Gjendebu to Memurubu halfway over the lake is pure pleasure. In sunshine the two sea kayaks and the canoe are surfing the waves with strong tale winds.
Ine Skjørten
Lake crossing, food drop, recharge, boat change 9 July 2010
2.30am I heard something large sniffing on the side of my tent. I slowly unzipped the rain cover, peered out and was face to face with a cow. Cow, please don't stand on my paddle!
I was hoping the wind would die down but all I could see was white caps of lake Gjenda. We floated with the tail wind past waterfalls and beaches; I tried to look for hikers on the famous Besseggen trail. Met Tank and Anna with our car at Gjendesheim for a food drop, boat swop, recharge camera batteries and ice cream.
I squeezed my gear into my new vessel, a Robson, Charger. Feeling nervous about being in a boat I've never paddled before, now loaded with gear we heading into the Sjoa river. Our first rapid was a good one with an exposed line down the middle. Followed by another great rapid under Maurvangen Bridge.
The wind is still howling off the mountains and down the valley.
Scott Martin
Øvre Sjodalsvatn to Griningsdal Bru 10 July 2010
Tail wind across the Upper Sjodalsvatn Lake, kept us moving at a swift pace in the morning. Loaded river kayaks are not fun to drift across a lake in steady winds, windcapping the surface. Without a rudder, you have to keep paddling to keep the boat going in a straight line. The sceney was pleasant with The Jotunheimen mountains in constant stormy atmosphere as our backdrop. Huts, private cabins, farm-houses and tourist lodges dotted the shoreline, the clouds on the horizon line were ever-changing.
Arrived at Postfuru, boated a rapid under the bridge, which has an awesome surf wave at the exit and at 351.44 on the guage is sweet with great eddy service.
The 2nd drop was descended on the river left channel by Ine. Scott was 2nd to go on the river right channel. He got tooled, by going over in a hole and then getting dragged upside down over a shallow slide/ledge. Ine and i stopped filming when he started to bounce whilst upside down.
A quick rescue resulted with just a sponge lost, a scar on new helmet, paddle blade smashed off, bruised shoulder and a small hole in his paddle jacket.
LUNCHTIME .... time to make a plan and Scott to dry out.
Cruisy afternoon over Lower Sjodalsvatn Lake, and then some cruisy rapids with brilliant blue skies and high cirrus clouds.
Gave Brett a call and he drove up the valley to meet us just above the rapids and bridge at Griningsdal with a replacement paddle. He was happy to meet up with us and suggested next time, that it was not for replacing trashed gear. We agreed that this would be better for us as well.
Rob Wilson
Nedre Sjodalsvatn to Ridderspranget 11 July 2010
We are spoilt with very good coffee on this trip. We are now drinking more coffee than water... Had a big cup this morning, and then did the first leg of the portage past the Grinningsdal bridge. It took us 1 1/2 hour to first walk the back packs then the boats. We put on after the bridge and ran 4 rapids class 2-3 before the water slowed down through the Steinholet section. Stuttgongfossen is a short portage, where we were accompanied by some sheep. There are three good looking rapids after the bridge. I saw a nice line in the first one on river right, but when i saw the entrance to it that was blocked by a boulder, i changed my mind and ran rapid # 2 and 3 instead. The boys had good center lines in the first one, and we all ran the rest in the usual routine. One running, one taking photos and one filming with the bottom person doing safety. Next up today was Upper Tråsåfoss. The lead in is a beautiful class 3 rapid, which ends in a steep ledge with good keeper qualities. Another portage was completed on river right through the pine forest. Then we ran fun roller coaster H2O down to Ridderspranget. Today we have seen stork, otter and even fish in an eddy!
Ine Skjørten
A great boating day 12 July 2010
Spent the morning walking around Ridderspranget collecting images. The river gorge is narrow enough to jump across. A classic Norwegian folklore took place here. A Prince jumped across the river with his lady and loyal servant to get away from the chasing foe, he then pushed his loyal servant into the river to scare his chasers.
We put on after the jumping rock. Came through some great boogie water to a large 8m drop, which we portaged. Kept moving to where the river narrows into a gorge and drops again, another hot and sticky portage. Put on after the drop and ran a committing canyon, which opened up. Ran endless white water until Nybru Bridge. Four solid rapids followed after the bridge. A great stretch of white water!
Met Tom and Ella for a food drop and Ine exchanged her kayak for her raft. Saw 5 kayakers on the water today, our first sighting of other paddlers so far.
We are camping with a herd of young cow's who are very interested in us.
Scott Martin
River is up 13 July 2010
By the time we went to bed, the river was high, into the tree line and still raining. Was raining whilst packing up this morning at the confluence with the Rinda creek. We are camped at home. We live next to the Sjoa River, so it was logical. The decision whether to camp close to the river or sleep in our beds was determined by the rainy weather and the water rising into the little patch of grass at the river.
Åsengjuvet canyon is where we spent most of the day. The effort to shoot today was frustrating with the rainy weather, the rocks were sooper slippy and lenses kept fogging up with the humidity.
Lunch at Harlaug bru was cool to see other people on the river when we arrived at the commercial rafting and popular section known as ` the play run ´. Met some friends we had not seen in a while and other folk we work with.
Our house was a hive of activity, also got a message that our raft was floating down at the river. Was tied up, but we went down anyways and moved it to higher ground.
We still have 2 planned days to go, so want to stay focused on the expedition and not get consumed by the other world too much.
Rob Wilson
Faukstad to Faukstad, Raft Race. 14 July 2010
Today was a little different than the other days. With good help of friends in Kongsberg Paddleclub and Oslo Elvesportsclub, we organized the annual downriver raft race from Harlaug Bridge to Faukstad. The Heidal valley is busy due to the Sjoa River festival and Eventyrfestivalen. The day was buzzing with happy friends coming through the house, the weather turned out warm and sunny and the river came down to 351.92, which is a good high level. Fun fun fun with 9 teams competing! In the evening is the ever best part of the year, the Pimp & Ho party. We are the last house on the road to Pensj where the party is, and had the privilege of an exellent view from our doorstep to all the glamourous boaters walking through.
Ine Skjørten
Still Raining 15 July 2010
Woke to a grey and gloomy day. The river was high, we stopped at the kayak camp to register for our event, the Sweet Rumble prelims.
We continued to the Heidal Raftings' Wilderness Camp. Rob and I napped. We arrived at the Sjoa Kajakk Camp, got the brief for the prelims race, scouted the course swiftly. Rob and I looked at each other and decided to go for it. Walking to the put it we could see a handful of boaters starting to dissect the course and choose their lines. Rob and I represented South Africa at the event and in proper African style I had Rob howling for me as I left the starting block.
The rain fell throughout the event and we returned to our camp to dry out all our wet gear and warm our bodies.
Scott Martin
A Beer and 3 Cigars 16 July 2010
Had a good sleep in the wood cabins at the Heidal Rafting Wilderness camp. When we arrived here yesterday there was a can of beer and 3 cigars on a bench. Co-incidence or what, i don´t know. A big thank-you to whoever left them there.
The river is cranking and still coming up this morning . We are right where there is a sharp bend in the river, this is a crux area when entering here at high flows. From here to the end of Åmot Fallene is commitment.
We decided to portage, some of us could have boated it, but the consequences of a swim could be lethal.
Was 1 of our toughest hours on the Sjoa Expedition. your mind is telling you, you are 1.5 kms from the mouth, which would be a 10 min paddle at these flows. But scramblimg through a damp and humid forest over a mossed scree slope in a pine forest and over creeks and 10 minutes becomes a long time, constantly repeated. Your mind goes to the river of rather boating than portaging, but while you stop and rest you watch the river more closely to see the size of the boils, relentless holes, the eddyless shoreline, collapsing water and general scariness for most folk keeps you focused that portaging is probably the best idea.
The 3 of us put in below the falls and blasted down in 1 move the last 400m to the confluence with The Lågen River and into the Gudbrandsdalen valley. I got a few shots as Ine and Scott came shooting past on the tail of The Sjoa River.
Washed our boats and gear, packed Ine´s car with all our stuff and cruised home. Stopped in at the Frig cafe for burritos and chocolate cake. Pizza, beers, movies on the couch topped off the day.
Rob Wilson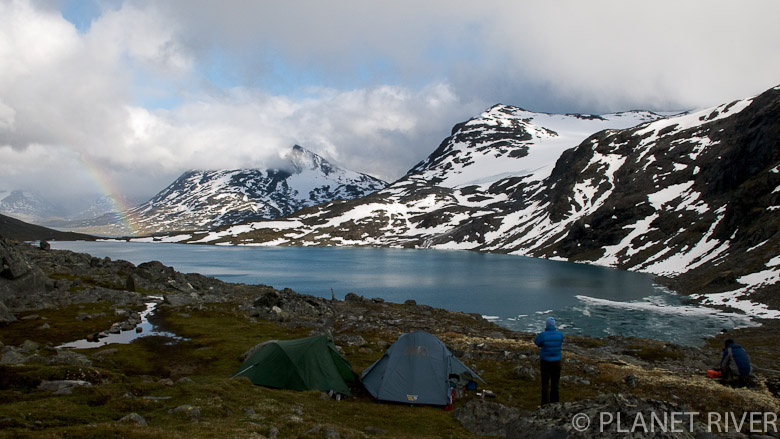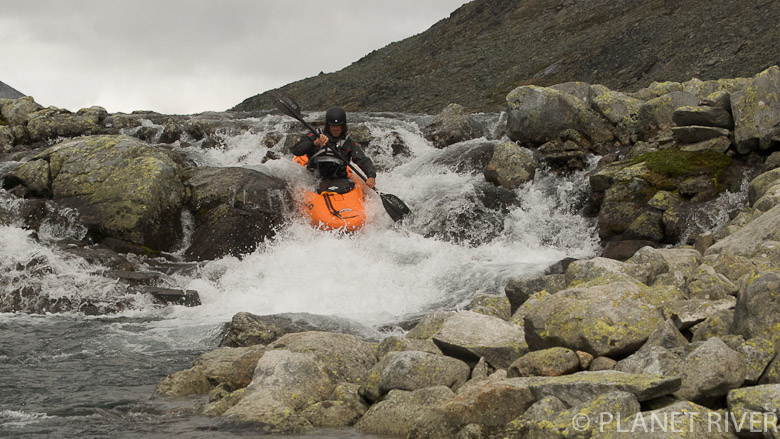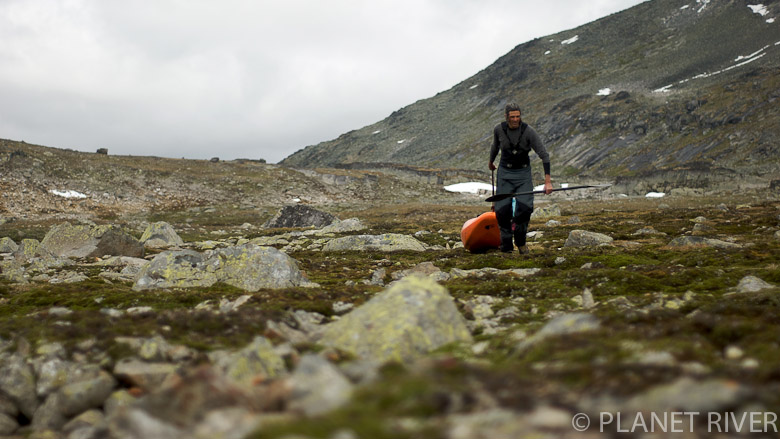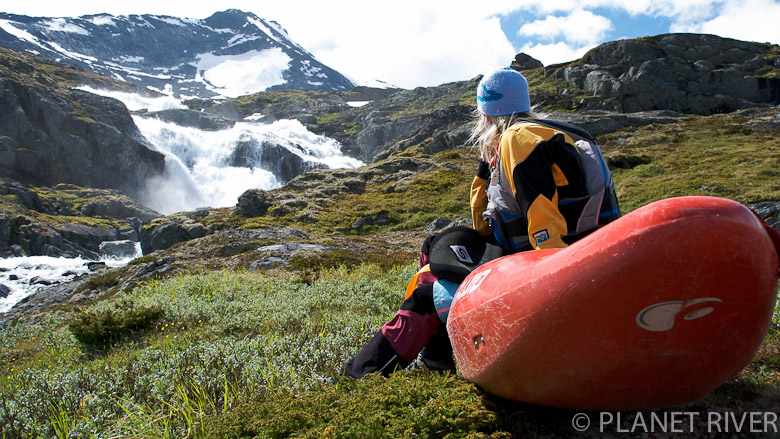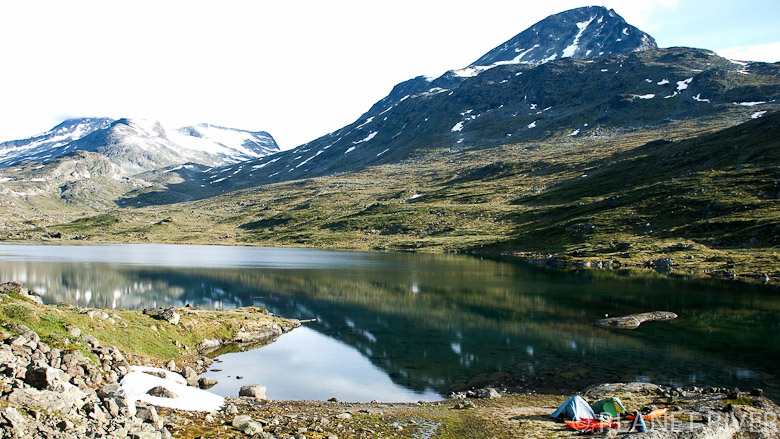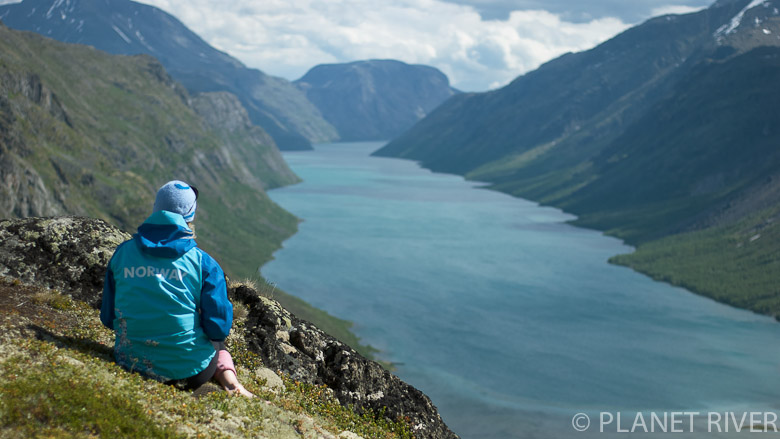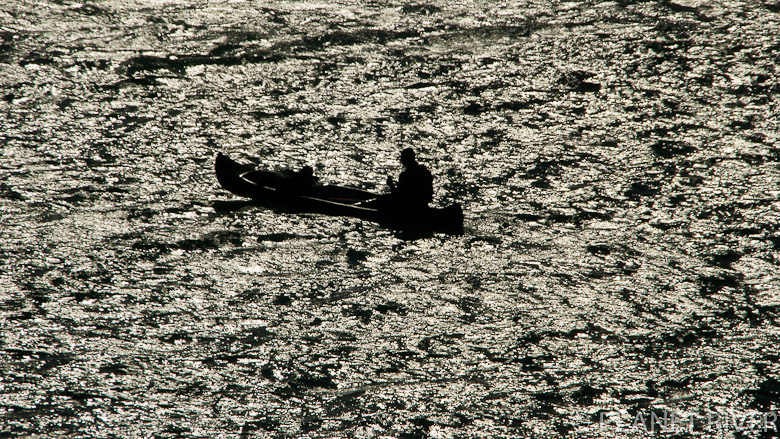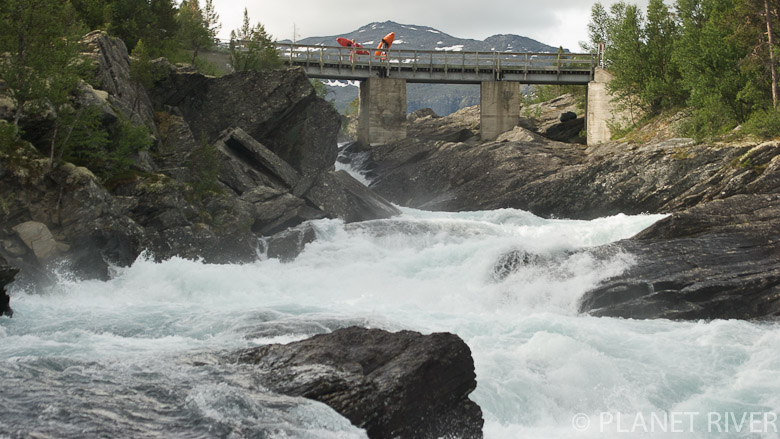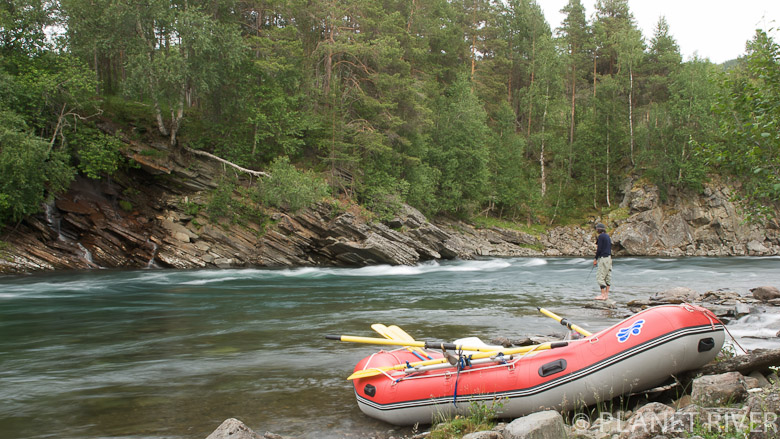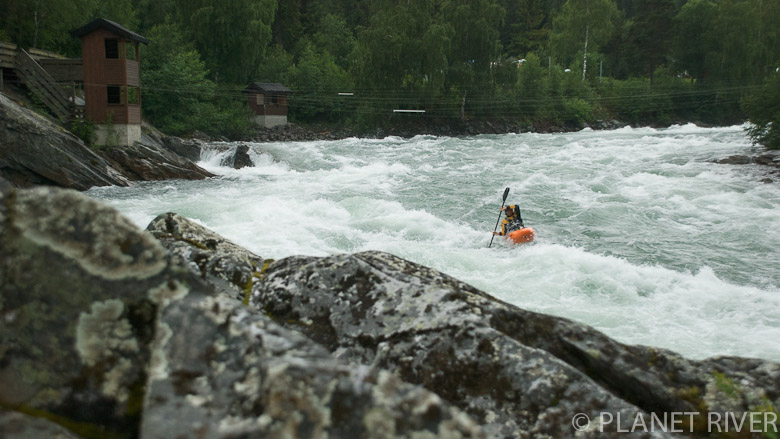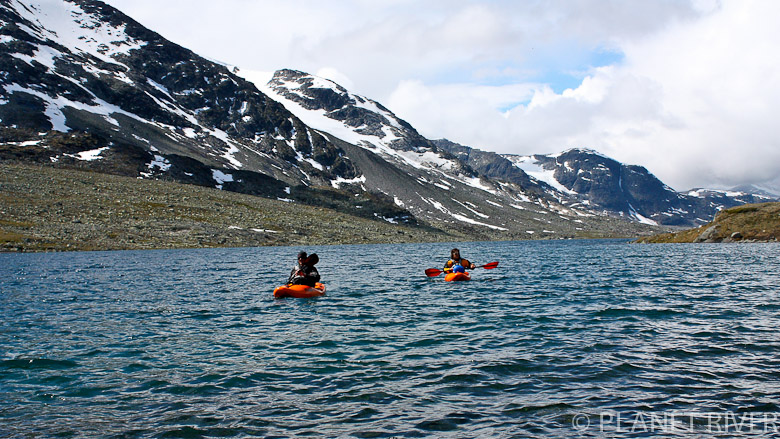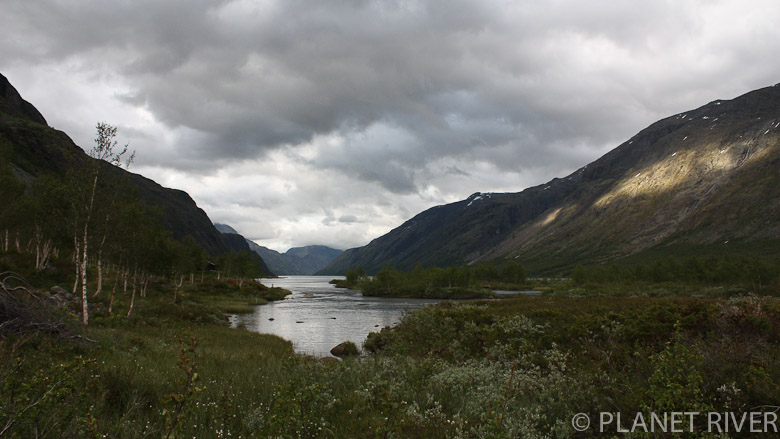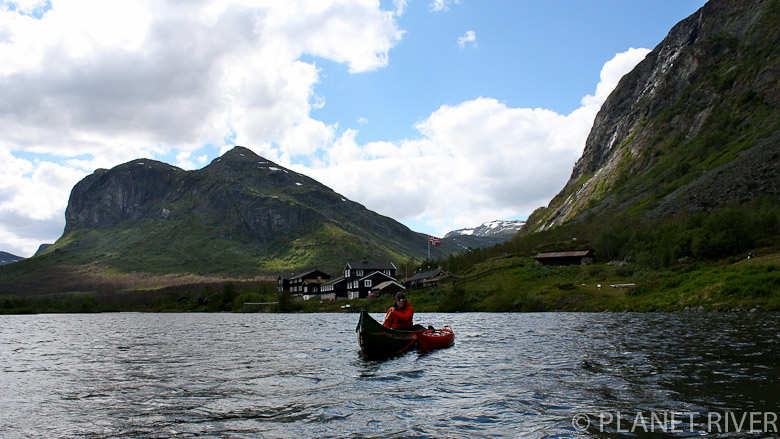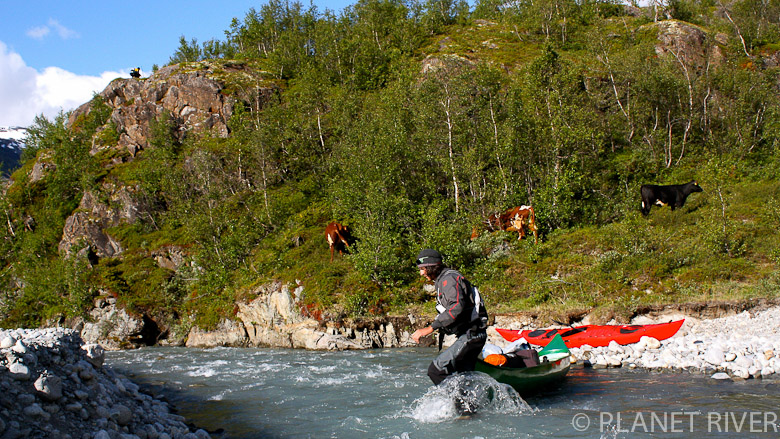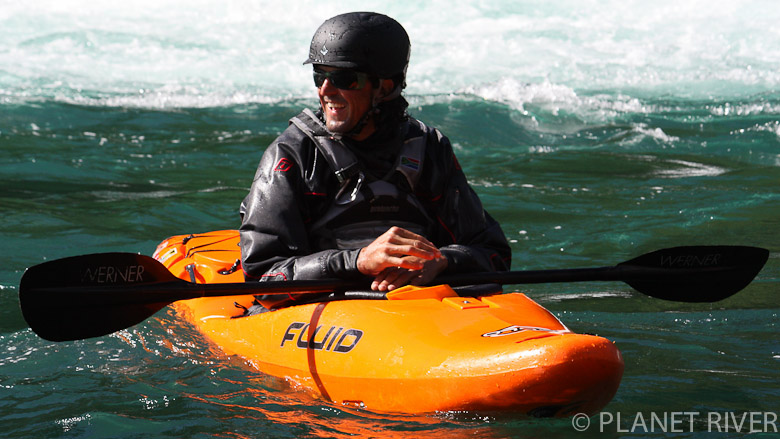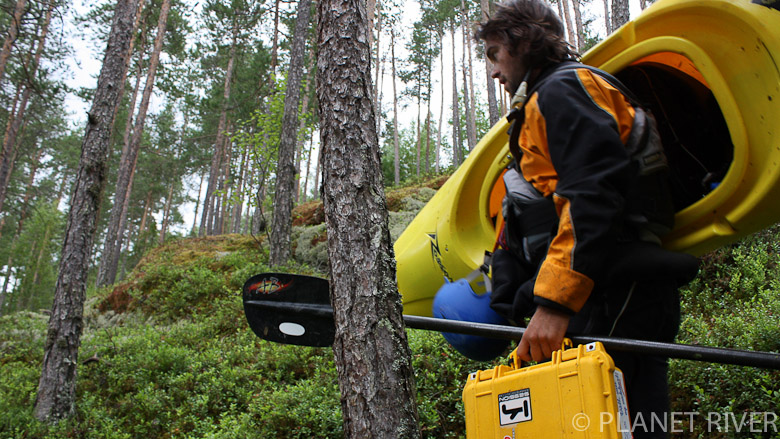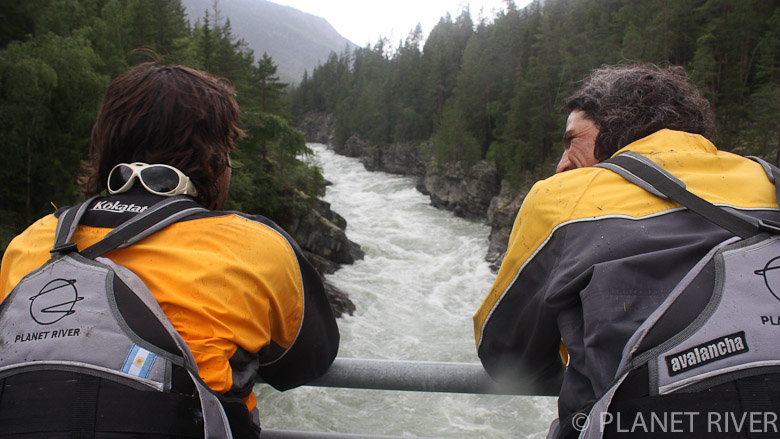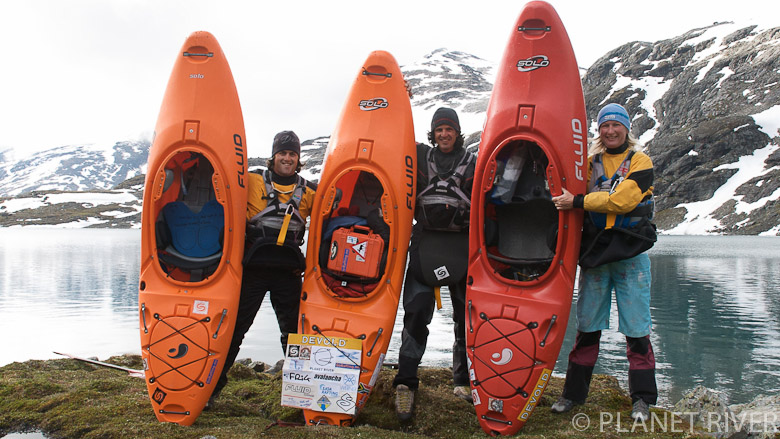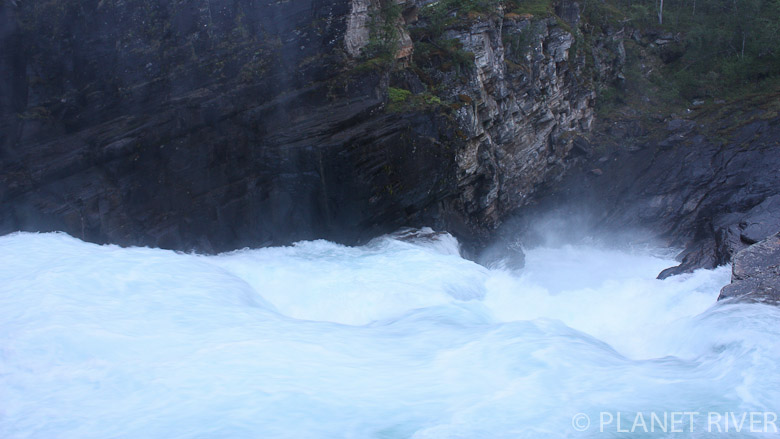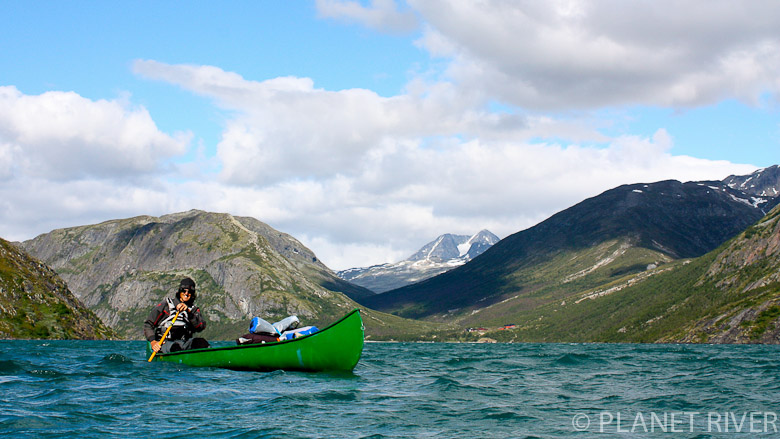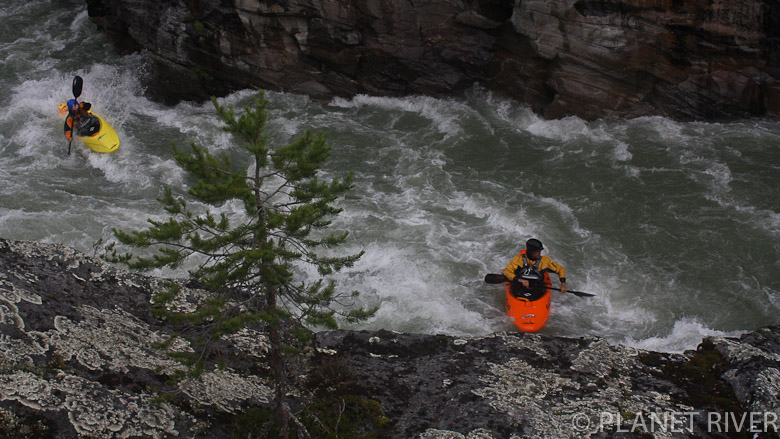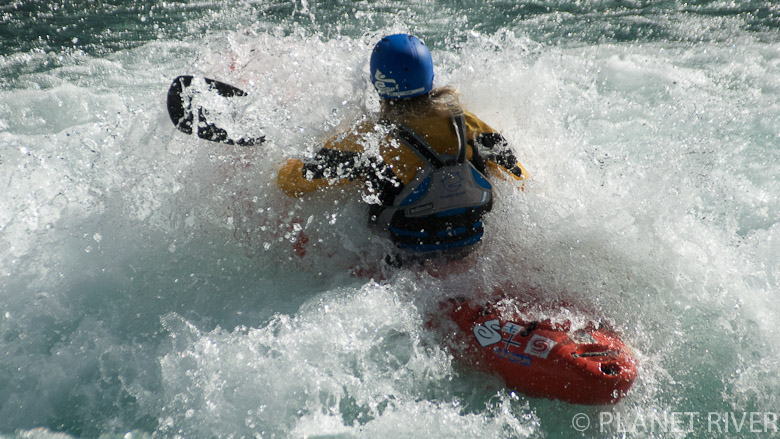 All images, copyright of Rob Wilson, Ine Skjørten Wilson & Scott Martin / PLANET RIVER
The Sjoa River Expedition Summary
5 July - 16 July 2010
Welcome to the Mountains
An on-time departure from our house with our friend, Jan. We cruised the 3 hour drive to Leirvassbu, with a last blast of tunes on his big black truck stereo at our arrival. The aptly named tune `welcome to the mountains´ by Norwegian rock band, Big Bang - drove the reality home. We are, was, were here (can´t remember which order). A snack, final pack, into river gear and we headed out into the wild mountains.
The Source
We started right at the first sign of meltwater of Høgvaglbreen glacier and then bum-skiing the snow-field down to Høgvagltjønnin Lake. For 2 days we followed the Storåe creek and valley from Høgvaglbreen to Gjendebu. This is likely to be a first descent by kayakers. Three lakes, a waterfall and 16 km of river were descended slowly and deliberately. The terrain was harsh - cold, windy, treeless, marshy and highly exposed. The river itself was shallow with extremely sharp loose rock, ice-cold water and relatively easy to navigate with several portages around a waterfall and sketchy class 5 rapids. Lunch on day 2 was prompted by our first major trial. Scott had cracked the hull of his kayak. Not really reparable. Luckily we were only 2 clicks from `civilization´. Rob went on a 24 hour side-expedition, caught the ferry and returned home to Heidal via a series of phone calls and lifts from Brett and visits to Strie Strommer kayak shop to source a new boat.
Lake Gjende
All 3 happy at regrouping at Gjendebu we traded the white-water kayaks for 2 sea-kayaks and an open canoe. Tailwinds favoured our 2 day crossing of Lake Gjende with an evening of unsuccessful fishing at Memerubu with the cows waking us in the early hours. We surfed the wind-swept lake for 18 kilometres, with steep glacier carved mountain walls, scree slopes, sandy beaches and the deep emerald green, glacial floured waters our natural companions.
Sjoa River
Gjendesheim is a tourist hub for ferry crossings, departure point for the famous Bessegen hike and the headwater of the Sjoa River. A laugh and chat with Tank & Anna who resupplied us and we were back into our white-water kayaks and directly into the whitewater with a great rapid at Maurvangen. Camp 4 at Øvre Sjodalsvatn Lake gave us a spectacular view to the setting sun dipping the horizon of the Jotunheimen Mountains in the West where we had recently descended from. Crossing the 2 lakes of Øvre and Nedre Sjodalsvatn we were again fortunate to have tailwinds, however white-water kayaks are not the greatest craft for keeping in a straight line over the white-capped lakes. At Furu, a solid class 4 drop between the 2 lakes, our expedition was halted briefly. The river had claimed Scotts paddle as a memento.
Sjodalen Valley
The gradient picked up considerably with portages at Griningsdal, Stuttgong Fossen, Ridderspranget and Upper Tråsåfossen. Interspersing these big drops were calm pools with marshy islands, pine and birch lined class 3 boogie water, summer cabins on the sun-facing hills, moss and lichen covered giant rocky outcrops. Occasional glimpses of vehicles on the 257. Fly fisherman plyed their sport quietly in the swift moving shallows. A sweet run at the classic Lower Tråsåfossen brought us into the Åsengjuvet canyon.
Åsengjuvet Canyon
We met up with Tom and Ella who had brought us cookies, smiles, supplies and our raft. Woke up to our first inclement weather of the expedition at camp 8, with the confluence of the Rinda creek. Moving slowly through the canyon we worked hard to capture images through foggy lenses under umbrellas. An underlying feeling of " nearly there" tugged in all of our subconsciousness. Little did we know that it would take us 3 more days for the remaining 14 km.
Heidalen Valley
Conveniently we live on the Sjoa River at Faukstad. We decided to sleep up at the house as the camp spot down at the river flooded with the rising river. A decision to get off the river, coincided with the annual Sjoa River Festival. As if we were not busy enough, Ine managed to rally 9 raft teams, 5 volunteers and an afternoon of sporting spectator delight. Rob and Scott filming and photographing, chased the teams down a high water downriver race through the commercial play run from Harlaug to Faukstad. The Aussies won again.
Åmodt Fallene to Lågen
Rob and Scott joined the River Festival festivities and entered the Sweet Rumble Boater X on day 12, coming 45th and 46th respectively. The river was now flowing at a healthy 352.29 at the entrance to Åamodt Fallene. A runnable/paddlable level with unhealthy consequences should you be out of your kayak. We decided on the portage option, tough but wise. We blasted the last kilometre and half to the confluence with the Lågen River. One journeys end, but half of our job done. Driva River next.
Thank-you
* Kersti Skjørten - Insurance
* Nerviken Eiendom - Maps
* Eilif Skjørten - Trademark
* Torgeir Strander - Accountancy
* Maja Lokken - Biodegradable soap